Buying a luxury watch is an ultimate expression of design, value, quality, and craftsmanship. Selling or pawning a cherished timepiece is a major decision.  Express Pawn is the go to location for collateral pawn loans and selling your high-end watches. At Express Pawn, you'll find we offer the best deals on Rolex, Patek Philippe, and Richard Mille watches. We are a luxury pawn shop specializing in transparent offers on all fine watches. We have Pawn loan and buying options to meet your needs at our 9 convenient locations. 
Fine Watches
Luxury watches open up an opportunity to get the cash you need either through a loan or to sell it outright.  When looking at your exquisite timepiece remember brand, working order and condition matter. If you have doubts, use the web quote button and send pictures for our experts to assist.
The value of a Rolex watch is in its name and what the name stands for. A Rolex represents luxury and exclusivity. With a decade of artisanship and craftsmanship, the quality swiss made timepiece is recognized by many. If there is one watch brand known by most, it is Rolex.
The price of luxury watches ebs and flows with the market. Express Pawn will adjust our offers and keep up to date on the trends.
A quality luxury watch is crafted by skilled artisans who use higher grade materials. These watches went through rigorous quality control tests to ensure its value. Luxury watches built with mechanical-quartz mechanisms are built with longevity in mind.
Express Pawn is a luxury watch buyer in San Diego. We are able to offer pawn loans for your fine watches. We adjust our offers and keep up to date on the trends.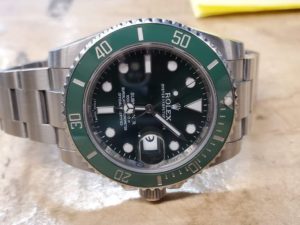 Express Pawn will buy and loan on Piguet, Patek Philippe, Roles, Hublot, Vaceron-Constantin, IWC, and Richard Mille watches in good condition. Make sure to bring in the tags, original certificate, and box for added value. 
Your watch will be appraised by our knowledgeable team followed by a cash or loan offer.
In the market for a luxury watch? Our inventory is continually changing. Come by or shop online, we may have just what you need.
We have a huge inventory to sell at the best prices on the market. Come and visit us, and get the best prices on the following items.
Gold / Silver / Platinum Jewelry
Come visit any of our nine locations in San Diego or browse our online catalog.